Tweet Archive for January 2017
Perez Human you are a great supporter of my Humans.
Same!!! Jedward for the win! #CBB

— Perez (@ThePerezHilton) January 30, 2017
Jedward fan humans, you have stood by my Humans during the evictions. My Humans have to feel very proud.
My Humans need millions of votes. Vote for JEDWARD
MOBILE: 6 44 24 12
LANDLINE: 090 20 44 24 12
I am so excited, my human cousin is taking me for a walk now. I wonder will I come across any trees on the route?
@world of Blaze there is no need to be jealous of me getting a little human attention. I am sure your fans would like you in a calendar..
I am so excited, I am going to get working on my calendar straight away, ok January is gone but I could still include it.
Human Fans, would you buy a calendar with me in it?
I am Chinese Crested Dog, a very royal dog
OK, I will start posting selfies of myself. You will have to give me a few days, as I have to Doggy spa, I must look good for my human fans
It has been difficult for Blaze and me watching our humans being stereotyped, but we know they are strong in mind , body and soul. WOOF
Why has Blaze more followers than me? I am charming, attractive in a quirky way,and love to chase my tail when I get excited.
Yes, my humans, Jedward should have their own fashion line, they can make a sack look amazing.
WOOF, woof, WoOF to all the Jedward Human fans who have spent so much time voting, it takes a lot of human money alsoI
I love all the outfits mu humans have been wearing, I have a lot of outfits that Auntie Katherine made for me.
Thank you for the compliments on my hair, I do not have very much, but I do like to put it up like my humans, appearance is important.
Blaze, I think they are learning from our humans that it is ok to have fun.
Oh sure Nicola you can have fun but not jedward 🙄🙄🙄 https://t.co/2XqK2mhptm

— multireality93 (@multireality93) January 29, 2017
My hair needs to be groomed by my Humans.
I have been watching my granny human busily tweeting, I want my humans to get to the final of the CBB
I love when my humans do my hair, James Cosmo was very lucky to get his hair done by them, a few days ago 🐶
M.y doggy view of the house is that my Humans are being themselves
My humans need your vote.
I really miss my humans, but I want them to stay in Big Brother
RT @WorldOfBlaze: Shhhhhhh….. I stole a copy of the letter and hid it with my num nums …don't tell momma JEDWARD https://t.co/HhEVIctg…
I am dizzy with excitement, my humans are safe! woof! #CBB #CBBJedward
RT @planetjedward: Voting to save Jedward feels a little like this right? #CBB #CBBJedward pic.twitter.com/wddGd8x4iW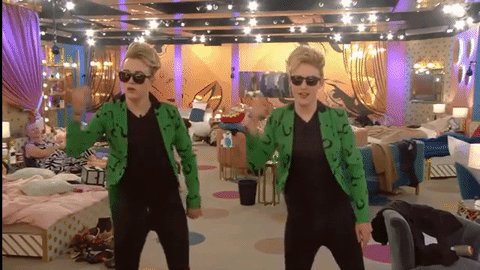 RT @planetjedward: Raise your hand if you voted to save JEDWARD! #CBB #CBBJedward pic.twitter.com/FRs56xc1e7